Sheltered Rabbit Runs & Rabbit Huts
PawHut Deluxe Two-Storey Wooden Bunny Rabbit Hutch w/Ladder Outdoor Run Box Slide-out Tray
House your rabbits in luxury with this deluxe hutch from Pawhut. Built from solid fir wood to a spacious design that allows them to roam around freely, it features both a living house and outdoor space with two ramps, allowing your rabbits to choose where they want to be and move inside and outside easily. Enclosed all around with spray wire to deter predators and keep the hutch well circulated, it is finished with a waterproof and anti-UV roof and a slide-out dropping tray for easy cleaning.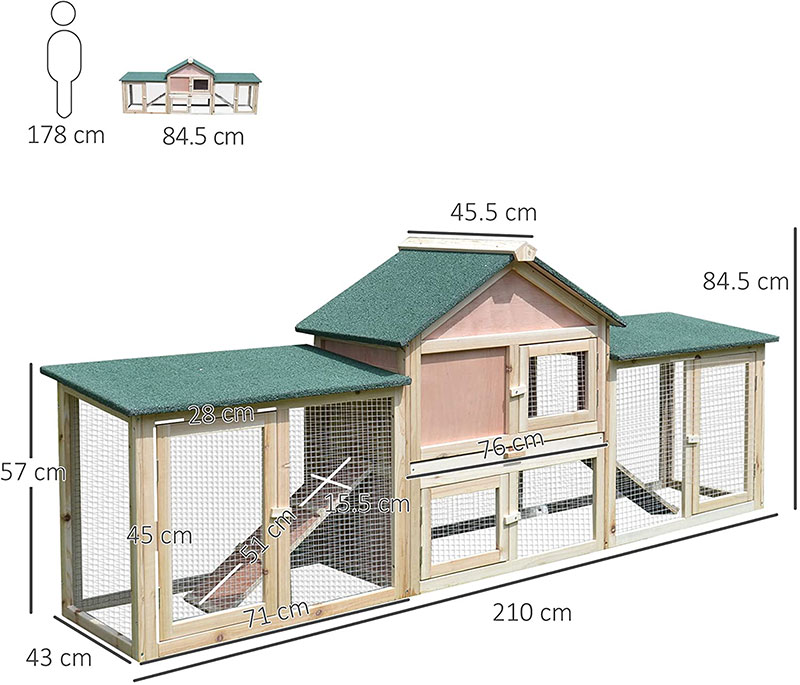 PRICE: £135.99
Dimensions: 210 x 45.5 x 84.5 cm
More Info Buy Now
Features:
Built from fir wood to provide a solid home for your rabbits
Spacious living house and outdoor area
Wire fencing around to deter any predators
Removable bottom tray for easy cleaning
Doors are lockable
Anti-UV and rain roof
The Grove Red Cedar Double Decker Rabbit/guinea Pig Hutch And Run Extra Depth
This stunning Hutch & Run offers very spacious conditions that is vital to the health and well being of your very precious pets. Manufactured using fir wood, this combination produces a great looking and highly practical hutch and run for your pet. All our products arrive flat packed ready and easy to assemble. As found from previous experiences hutches sent out ready built not only cost more to send, but they have tend to arrive broken. SUBSTANTIAL High Quality Wire ALL WOODWORK is of the Highest Quality, Jointed, Sanded and Screwed Please look at the detail, this really is what you will get The wood is treated using a water based anti fungicidal animal and environment friendly stain.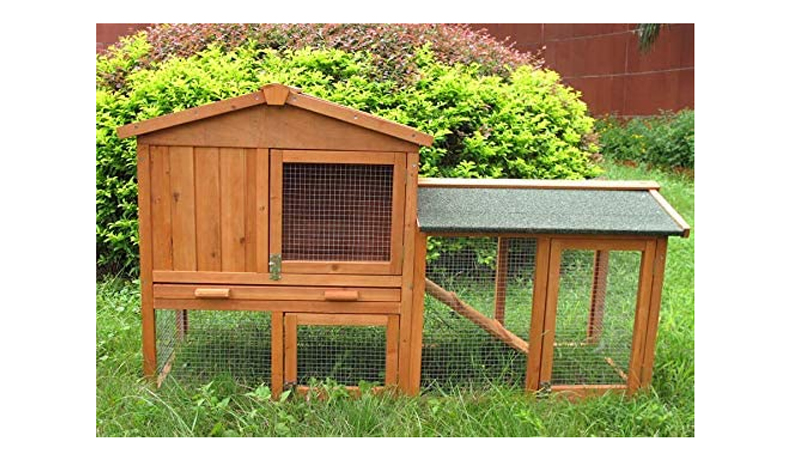 PRICE: £114.99
Dimensions: 147cm x 57cm x 85cm x 61cm.
More Info Buy Now
Overall width : 147cm x overall depth : 57cm x overall height : 85cm x overall run height : 61cm high quality wire used throughout
Painted, sanded & screwed - rounded felt edge
The wood is treated using a water based anti fungicidal animal and environment friendly stain
Manufactured by bunny business ( registered trademark ) uks no1 brand for rabbit hutches and runs
PawHut Rabbit Guinea Pig Hutch Wood Bunny Cage
This outdoor rabbit cage from PawHut is perfect for use with rabbits, guinea pigs and similar sized animals. It gives a mix of living space - the upper house offers them a private area, whilst the lower area gives them open space for free movement. Lockable doors and the slide-out tray provide easy access for cleaning, feeding and other tasks. Finished with an asphalt roof to keep inside dry from light-medium rain.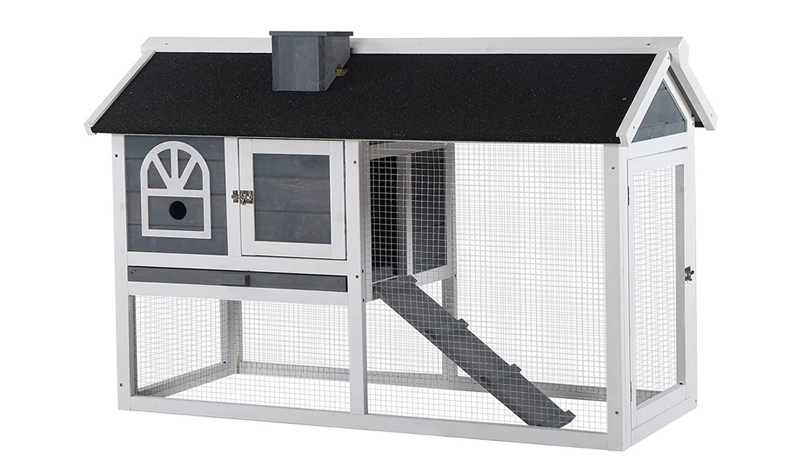 PRICE: £108.99
Dimensions: 147cm x 57cm x 85cm x 61cm.
More Info Buy Now
Decorative window and chimney for a cute look
Locking mesh door and house door for easy access
Fir wood structure is tough and durable, coated with water-resistant paint for extra protection
Suitable for light outdoor use do not leave in heavy weather
Observing hole in the house. Pull-out tray for cleaning
Suitable for two-four standard-sized rabbits
Assembly required