Guinea Pig Hutch and Run Combos
PawHut Indoor Wooden Guinea Pigs House Enclosed Run
This indoor rabbit cage from PawHut is suitable for your rabbit, Guinea Pig Hutch And Run and any other small animals you might own. The structure, made from fir wood for solid and sturdy wear, is crafted into a two-area design, consisting of the house area and the spacious bottom hutch, connected via a large ramp to give your pet plenty of room to move about. Two locking doors and two pull out trays allow easy access inside for cleaning and changing food, water and bedding.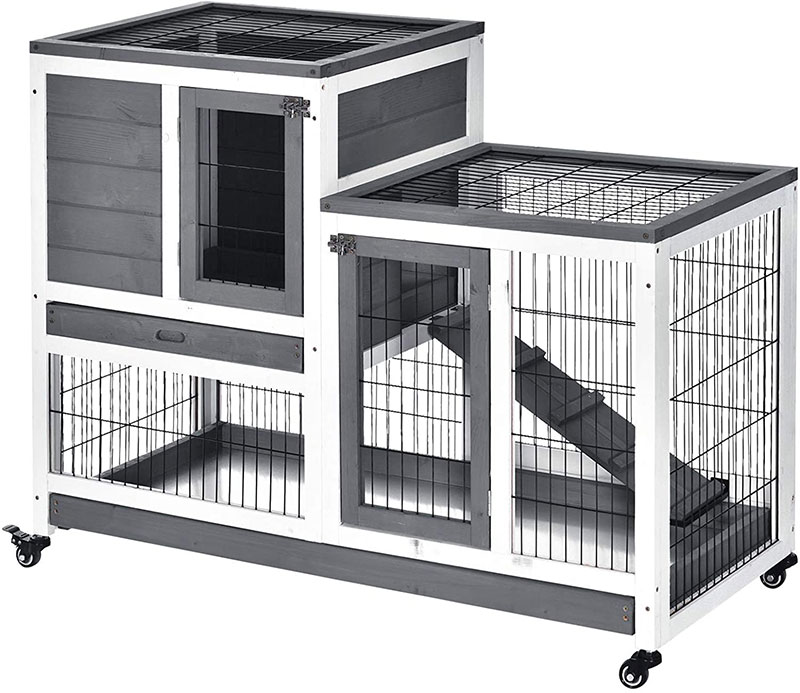 PRICE: £161.99
Dimensions: 110 x 50 x 86 cm.
More Info Buy Now
SPACIOUS DESIGN: Formed of two-tiers - the top house and bottom run, giving them room to move about, hide away and get some fresh air when wanted. Connected via a ramp so they can move around easily.
EASY ACCESS: Features two locking doors and two slide-out trays, allowing easy access inside and for cleaning and refilling your pet's daily essentials.
FIR WOOD STRUCTURE: Solid formation to give your pet a safe and reliable place to live. Top paint coat for extra protection to the frame. METAL WIRE FENCING: Prevents your pet from escaping when they're in the run.
FOUR WHEELS: Easy to move hutch around without disturbing the pets inside. DIMENSIONS: 86H x 110L x 50Wcm. Top house: 39.5H x 51L x 46Wcm.
SUITABLE FOR RABBITS, Guinea Pig Hutch And Run Combos AND SIMILAR SMALL ANIMALS. ASSEMBLY REQUIRED. NOTE: Buyer to determine the amount of pets that will fit in the hutch depending on breed and size.
PawHut Rabbit Guinea Pig Hutch Wood Bunny Cage
This outdoor rabbit cage from PawHut is perfect for use with rabbits, guinea pigs and similar sized animals. It gives a mix of living space - the upper house offers them a private area, whilst the lower area gives them open space for free movement. Lockable doors and the slide-out tray provide easy access for cleaning, feeding and other tasks. Finished with an asphalt roof to keep inside dry from light-medium rain.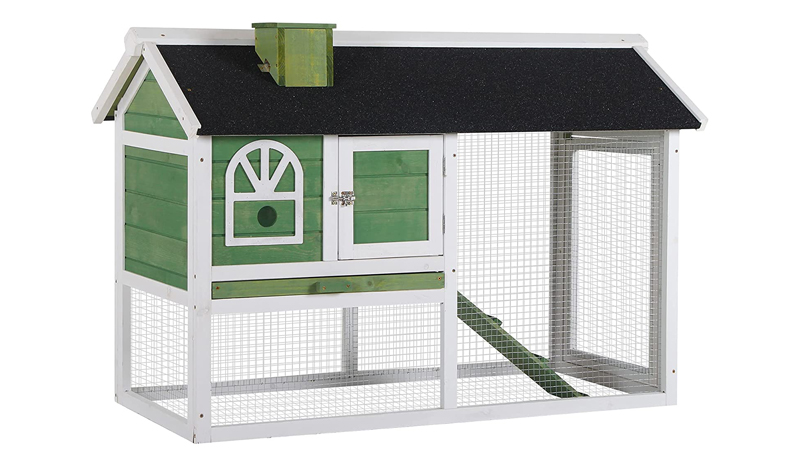 PRICE: £101.99
Dimensions: 120L x 60W x 79H cm .
More Info Buy Now
Decorative window and chimney for a cute look
Locking mesh door and house door for easy access
Fir wood structure is tough and durable, coated with water-resistant paint for extra protection
Suitable for light outdoor use do not leave in heavy weather
Observing hole in the house. Pull-out tray for cleaning
Suitable for two-four standard-sized rabbits
Assembly required
PawHut Wooden Rabbit Guinea Pig Hutch Bunny Cage
This outdoor rabbit hutch from PawHut is perfect for use with rabbits, Guinea Pig Cages And Run, and other similar sized animals. A cozy, house-style indoor space offers ample space for your pet to rest and play. Lockable doors allows your pet easy in and out, also ensures their safety. Large mesh window allow you to observe your pet more easily as well as ensure good air circulation. Slide-out tray and openable roof provide easy access for cleaning, feeding and other routine tasks.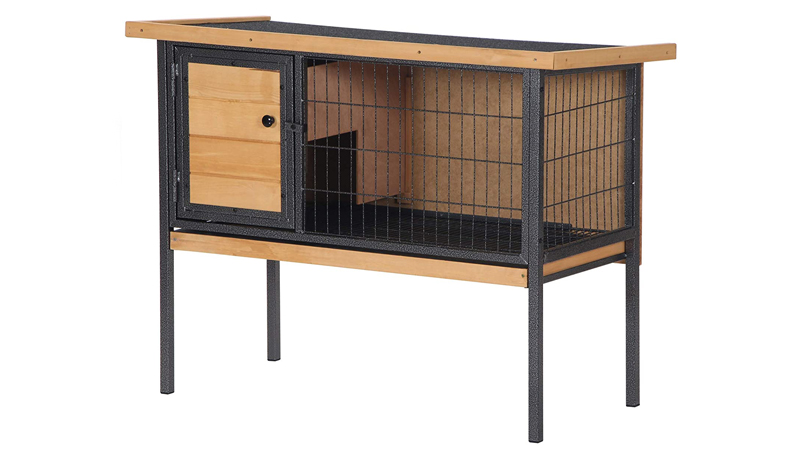 PRICE: £68.99
Dimensions: 91.5L x 45W x 70H cm
More Info Buy Now
Ideal for rabbits, bunnies, guinea pigs, chinchilla, and other similar sized animals
Lockable doors for easy in and out also ensures your pet's safety
Solid fir wood frame with water-resistant paint and tilt asphalt roof make this cage suitable for use in outdoor
Galvanized wire allows you to observe your pet more easily also ensures good ventilation
Removable slide-out tray for easy and quick cleaning
The roof can be opened for easy cleaning and good air circulation
The elevated design prevents the hutch from getting wet
Suitable for 1 to 2 rabbits; Assembly required with necessary hardware included