Rabbit Hutch and Run Combos
5ft kendal Outdoor Rabbit hutch and Run
Home & Roost proudly offer The Kendal 5ft Luxury Rabbit Hutch and Run combination. This hutch makes a fantastic pet home, all year round, for the larger rabbit or even two sharing. Manufactured in the UK using 14mm Scandinavian Tongue & Groove timber, this robust 5ft hutch sits over a double sized run (in either a forward or backward facing direction). In either position, access to the inside of the hutch is hassle free as we've integrated new, easy access, side opening doors. Finishing touches include a central wire panel for the water bottle, an arched divided sleeping area, a ridged safety ramp (providing access to a spacious 1" x ½" galvanised wire run) cementing the Kendal 5ft Luxury Rabbit Hutch and combo its place in our Hall of Fame. As if this wasn't enough, it's also weather proofed with an animal safe water based wood preservative, which provides protection from rain and sun deterioration.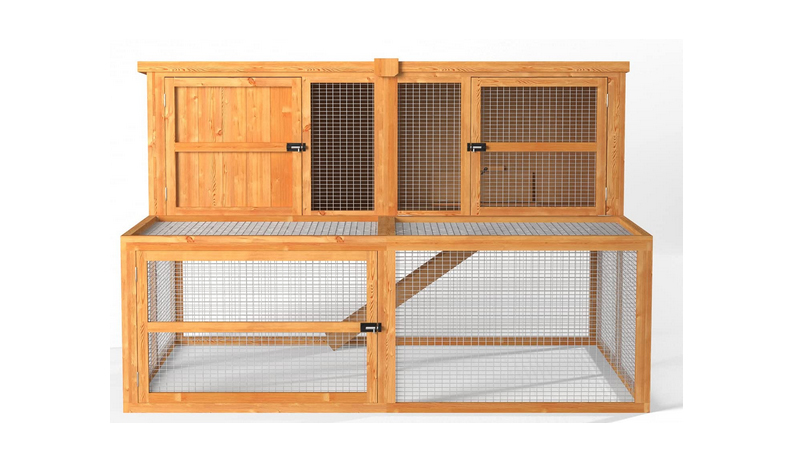 PRICE: £189.98
Dimensions: 150 x 120 x 120 cm; 26 Kilograms
More Info Buy Now
BRITSH MANUFACTURING: We're a proud member of the Made In Britain Campaign and are the only supplier of Rabbit Hutches and pet cages that manufacture's in Britain. Based in Kent, a family run business that has been operating in the pet industry for the 40 years. We pride ourselves on supplying the highest quality products for you and your pets. GIVE YOUR PETS THE GIFT OF SPACE: Unlike other lesser Rabbit Hutches on the market, our rabbit cage gives your pets at least 2ft of headroom and 2ft of floor depth. The amount of space that your pets have is imperative to their happiness.
HAPPY PETS: We guarantee you and your pets will love your new home, but because we're a family run business and manufacture ourselves in the UK any problems or issues you might have been covered under our guarantee and can easily be sorted out. We want you to have complete confidence in our product that's why we stop at nothing to make sure both you and your pets couldn't be happier with your new hutch.
HUTCH FLEXIBILITY: The Kendal range of Hutch and Runs are designed to work both ways. So you can have the top part of the kendal facing either over the run or turned around facing back.
PREDATOR PROOF: Unlike small Rabbit Cages our XL kendal outdoor homes are huge! This means when you lock your bunny up at night foxes are less likely to notice your pets.
Eggshell LARGE SMOKEY XL NATURAL COLOUR RABBIT HUTCH GUINEA PIG HUTCHES
This stunning 6ft Hutch & Run offers very spacious conditions that are vital to the health and wellbeing of your precious pets. The top section of the hutch is the living area which has plenty of ventilation. The bottom play area has thick 3mm plastic coated wire to PREVENT PREDATORS form entering. The overall length including roof overhangs both sides are 6ft. Manufactured using fir wood, this combination produces a great looking and highly practical hutch and run for your pet. The products will be delivered flat packed and are very easy to assemble. The wood has been treated using a water based anti-fungicidal animal and environment friendly stain. PLEASE NOTE that due to the vast array of Rabbits and their range of sizes we recommend that you read the dimensions carefully before deciding on how many Rabbits you need to house and which hutch size is best for you. DIMENSIONS: Overall (including overhangs) L= 180cm W= 53cm H(at highest point) = 85cm INTERNAL RUN L = 170cm W = 43cm H (on run section) = 62cm H (under sleeping area) = 38cm SLEEPING AREA H = 51cm L = 75cm W = 41cm ACCESS DOOR TO SLEEPING AREA: H= 18cm W= 38 ACCESS DOOR TO RUN: H= 42cm W= 38cm NIGHT SHUTTER DOOR SIZE: H= 18cm W= 16cm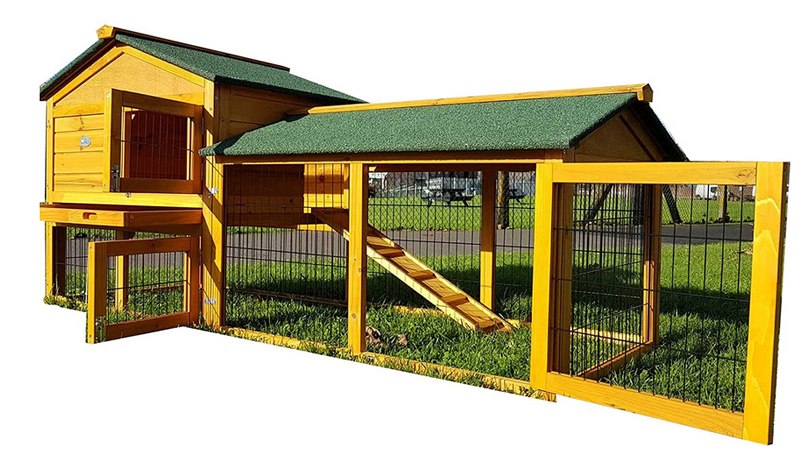 PRICE: £129.99
Dimensions: L180cm x W53cm x H85cm.
More Info Buy Now
180CM IN LENGTH - 180CM IN LENGTH - 180CM IN LENGTH Thick 3MM WIRE ON RUN - HIGHLY FOX RESISTANT! Slide out tray for EASY CLEANING INTERNAL NIGHT SHUTTER Dims (incl overhangs): L180cm x W53cm x H85cm
Leisure Zone Weatherproof Wooden Rabbit Hutch House with Outdoor Run
Portable Compact Footprint: Its compact, low footprint design easily fits a smaller space. This outdoor rabbit playpen makes it possible to give your furry friend time outside without sacrificing a whole lot of room! Main Material: It is mainly made of wood and steel Wire. The wood is treated using a water based anti fungicidal animal and environment friendly stain. Easy access design: There are 2 easy to open doors to gain quick access to your pets, one is able to open up the outer run area and the other is to open the inner loft area. The large main living area has a removable pull-out tray to make cleaning simple and quick.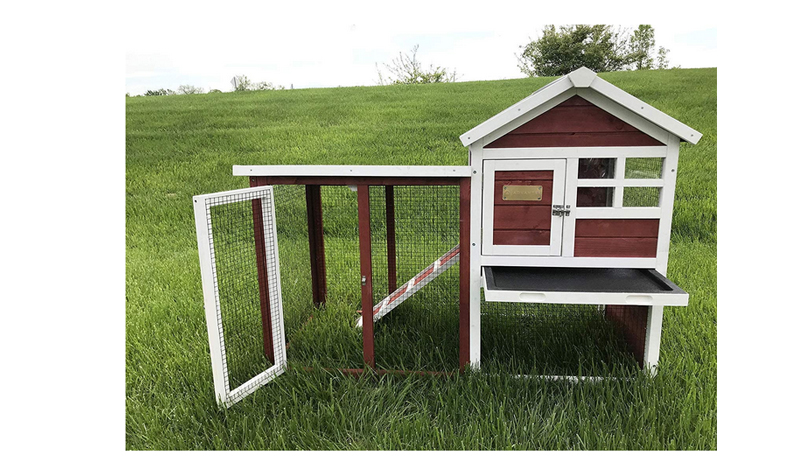 PRICE: £99.99
Dimensions: L 118 x D 60.5 x H 92 cm
More Info Buy Now
Size information: Overall size:L 118 x D 60.5 x H 92 cm (includes roof portion), Extended Portion:L 64.5 x D 54 x H 66 cm, Door with Wire:26 x 57 cm - Wooden Door:22.5 x 28 cm, Pull-out Tray: L 49.5 cm Indoor and outdoor using: This rabbit starter kit hutch has a sturdy steel wire detachable outdoor run for your pets to run around as well as an enclosed space for them to be able to sleep indoors. The solid fir wood construction coated with safe, non-toxic water-based paint ensures long-lasting use for your furry friends.